At AGL, we provide international logistics services,
connecting Myanmar and other ASEAN countries with China Hong Kong.
SERVICE
4PL Service
At AGL, we provide international logistics services, connecting Myanmar and other ASEAN countries with China Hong Kong.
AGL's 4PL (Fourth Party Logistics) service surpasses that of "3PL" and has become the standard for the current logistics industry.At AGL, our aim is to work closely with our customers throughout our business relationship from beginning to end, to ensure that our customers' individual needs and goals are met.Rely on AGL to provide solutions to all of your company's waterfront shipping and logistical needs.Using our wealth of experience to optimally combine multiple logistics methods, we at AGL provide excellent local information and realize logistics solutions that integrate advanced information systems such as ICT.At AGL, we encourage our customers to be competitive and innovative. We endeavor to be the best possible partner for future business and we will continue to strive to reach this goal.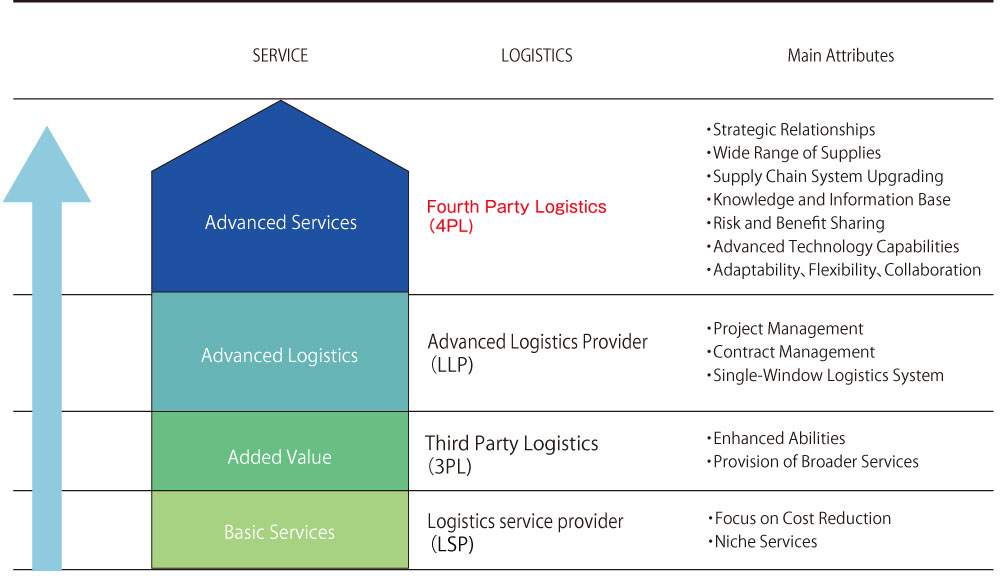 Consolidated In-House Services
AGL is Consolidating Logistics, Promoting Efficiency, and Reducing Costs.
One of the concerns every company has is the consolidation of small-lot freight in order to make use of economies of scale.Consignment manufacturing plants are spread out across the globe, and small-lot freight is increasing year by year. However, the present situation is that there are many unclear issues overseas regarding what kind of business schemes to construct and how to ensure transport without incurring time lossWe have experienced personnel in various parts of Southeast Asia, and we have amassed great expertise in consolidating freight at local logistics centers, offering a better alternative to shipping companies which put shipments together in ocean containers.We have realized significant cost reductions, shortened lead times, and enabled a new collective management of operations.Customers should be allowed to concentrate just on "selling" and "manufacturing", relying on us at AGL to eliminate concerns about transportation and shipments arriving on time.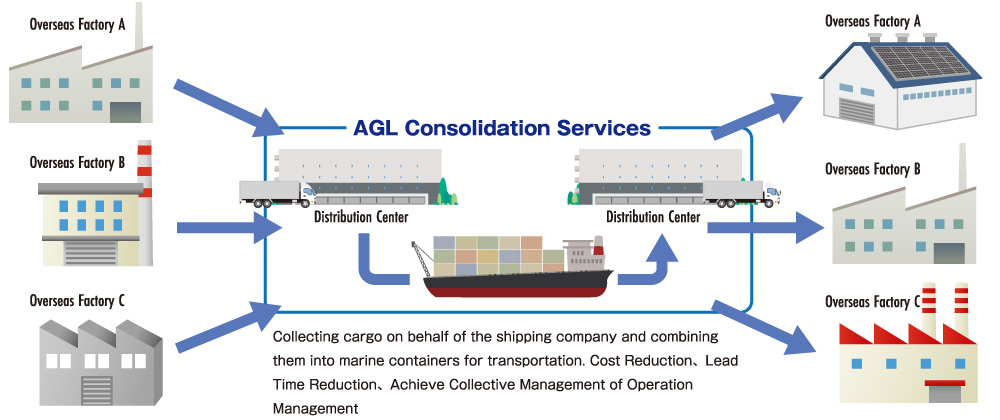 CBLT service (Cross Border Land Transportation) / from Shanghai to Myanmar(Yangon)
Connecting Shanghai via a Revolutionary Logistics Network
Myanmar, which has experienced rapid economic development in recent years, is a country where AGL has focused its attention since the company was established, exploring possibilities as a logistics company and building its logistics network.Progress has been made toward the realization of the "China-Myanmar Economic Corridor", linking China and Myanmar, including the financial support of 800 billion yen from the public and private sector over a five-year period, which Japan announced in 2016.Focusing on swift movement, utilizing China's original distribution network in China, making the most of ingenious minds, non-shipping, non-air transportation, land transportation from Shanghai to Yangon, the capital of Myanmar. A new "Distribution Network" has been realized.As production bases gradually shift from China to ASEAN countries, the shift of bases is an important issue for Japanese companies with production bases in China.In our work, it is important to turn the customer's anxiety into "confidence".
Measures for Damage
by Packing
We devise packing forland transportation
to prevent damage
Used in Dry and Hot Seasons
Transport during the dry season (late October to March) and the hot season (April to May) We will refrain from using CBLT during the rainy season(June to early October)
Insurance
Overseas Freight Insurance covers
damage arising from various risks
during land transportation.