PROFILE
Company Profile
Message from the
President
Company
Overview
Approach to the
Environment
Message from the President
AGL Corporation was established in January 2009, as an international logistics company utilizing its logistics network in China and ASEAN region.
2020 marks our 11th year since we have established. We appreciate the support we have received so far and have steadily built up our track record and are now aiming for the next step.
The trading industry is becoming borderless, and worldwide globalization is advancing due to improvement of digital technology. Especially in Asia, social infrastructure and IT have developed at a substantial rate, which has affected the way we think, and the logistics organizational structure is evolving year by year.
We believe that our goal is to always be aware of the changes in society, and to be aware of changes, and to always understand our customer needs, and to think about the way logistics should be, to solve problems, and to create new logistics mechanisms.
Our organizational structure is based on delivering cargoes requested by customers quickly and reliably to the designated location. We hope that we can deliver not only cargoes, but to provide high standard of service for our customers.
We will continue to make further efforts to provide high standard of service as a logistics company, and we are grateful to have been able to maintain a good relationship with our customers and would like you to continue supporting our company's business activities.

Yasuo Ota
Director of AGL Corporation
Company Overview
Company Name

AGL Corporation
Established

January 2009
Representative

Yasuo Ota
Address

8-5-27 Akasaka,Minato-ku,Tokyo Nittetsu Bussan Building 4F (Zip Code 107-0052)
Business Hours

9:00am-5:15pm
TEL

03-5412-5718
FAX

03-5412-5719
Business Content

Freight Forwarding Business(Interna tional Shipping)Consultation
All businesses related to the above
Main Bank Partners

Sumitomo Mitsui Banking Corporation Head Office, Department of Sales
Capital

10 million yen
Shareholders

Nippon Steel Trading Corporation (Nippon Steel Bussan Co., Ltd.) (100% Investment)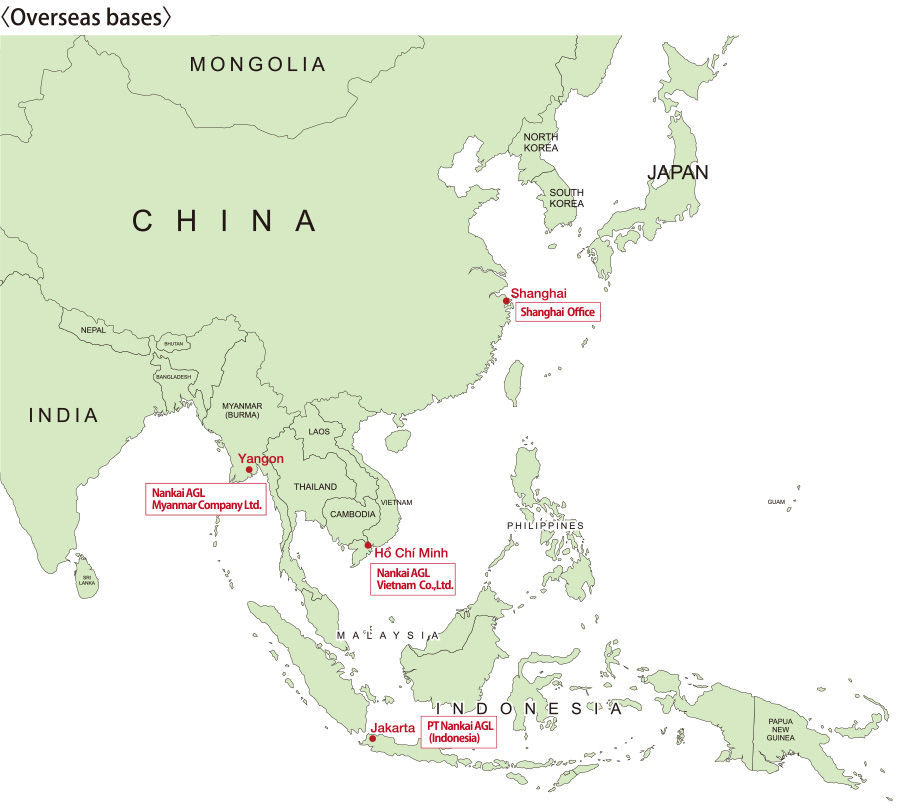 Approach to the Environment
A global, environment-friendly logistics company striving
for daily business improvement
AGL Corporation consists of three words: Applied, green and Logis ticsEfforts to improve the global environment are also a pressing issue in the industry.In particular, the reduction of greenhouse gas emissions requires collaboration between the logistics industry and shipping companies.Newly established in the 21st century, our mission is to maintain a sustainable global environment.The phrase "Applied Green" is th e motivation of our company.
Flexible Use of Local (China) Distribution Centers
With regard to the import of textile products, there are many c ases where it is convenient for shipments from China to be loaded onto flights to Osaka and Tokyo, from which store allo cation is carried out near the landing site and products are finally transported by truck to various parts of Japan.Curre ntly, long-distance transportation is carried out in Japan; transportation that is inefficient and increases carbon dioxide e missions has become normal.
1)Local allocation by store, consolidating freight and achievin g transportation and delivery to final consumption point in Japan.
2)Shipping to the final consumption point, arrival at a port clos e to the final consumption point in major cities, reduction of domestic surface transport from designated wa rehouse to final consumption point.
3)Consolidating cargo at distribution bases to improve loading e fficiency and realizing frequent use of transportation networks.
4)Earn distribution days in China by carrying out distribution p rocessing, such as allocation and inspection in China, and modal shifting from aircraft to sea transport.
As a result, it is possible to simultaneously reduce distribution costs and carbon dioxide emissions from the time of shipment to the final destination in China.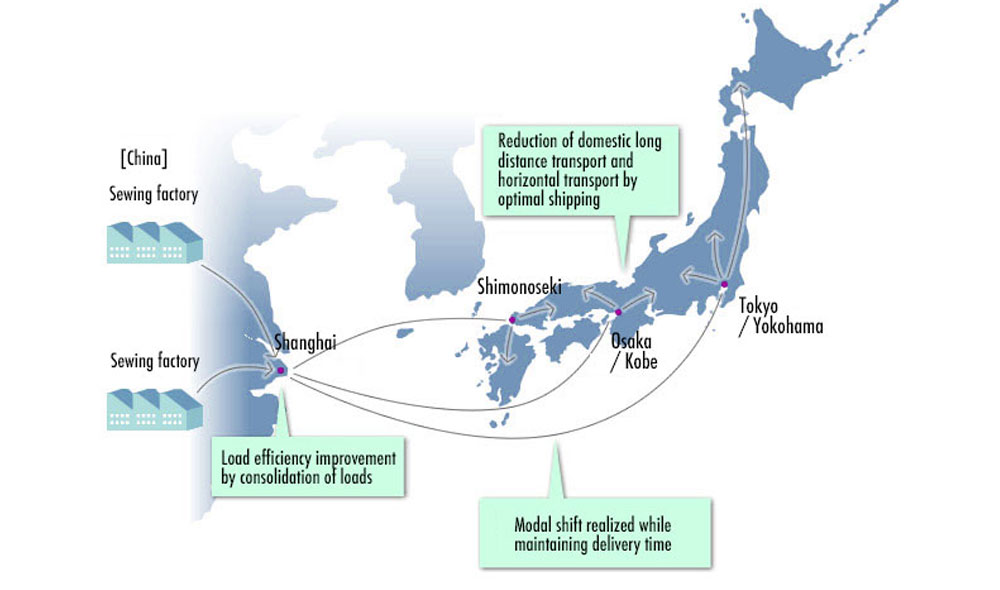 We are a member company of "Green Logistics Partnership" aiming at Earth-friendly logistics